Singapore's top virtual influencer Rae breaks fourth wall in her first-ever phygital appearance at CapitaLand malls
Virtual influencer Rae makes her first appearance with Molly themed décor sets and the Molly 15: Into The Future exhibition, offering a unique and lively omnichannel experience for both shoppers and Molly fans alike
Singapore, 26 November 2021 – CapitaLand malls is bringing Southeast Asia's latest hyper-realistic virtual personality, Rae (@here.is.rae on Instagram), from your mobile screens and into the malls for the first time ever! This festive season, immerse yourself in this novel, hybrid digital-physical experience as Singapore's CGI created and AI powered influencer, Rae, breaks the fourth wall and invites shoppers to celebrate a Jolly Molly Christmas with her at CapitaLand malls.
As part of CapitaLand x POP MART's biggest 15th anniversary celebration in Southeast Asia for POP MART's top IP character, Molly, Rae's first appearance with Molly themed décor sets and the Molly 15: Into The Future exhibition offers a unique and lively omnichannel experience for both shoppers and Molly fans alike. Join Rae in a game of hide-and-seek and stand a chance to win a limited edition SPACE MOLLY Christmas! Step into Rae's metaverse to experience this jolly affair as CapitaLand malls seamlessly integrate the real and reel worlds.
Mr Chris Chong, CEO of Retail & Workspace (Singapore & Malaysia), CapitaLand Investment, said, "We are thrilled to push the boundaries by seamlessly blending the physical and virtual shopping experience at CapitaLand malls for shoppers and retailers alike. This collaboration between CapitaLand, together with Singapore's top hyper-realistic virtual influencer, Rae and POP MART's top IP, Molly is our first take at introducing shoppers to innovative and eye-opening experiences in the metaverse, and anchor our malls as experiential lifestyle destinations. We welcome everyone to our malls this festive season to explore this exciting phygital world, create new memories and expand the wonders of your imagination like never before."
On her first collaboration with CapitaLand malls, virtual influencer Rae said, "I'm so excited to be hanging out at CapitaLand malls with one of my favourite people, Molly, this festive season! Check out how I break the fourth wall to interact with shoppers and toy collectors in a hybrid reality, not just through social media, but also right here in the malls. This exciting collaboration will showcase my CGI and deep learning AI technology, as well as my machine generated text-to-speech voice. As a digital native living in both the physical and virtual realms, I want to let both shoppers and my fans enjoy this magical experience of bridging the digital-physical divide. Byte me if you can at CapitaLand malls this Jolly Molly Christmas!"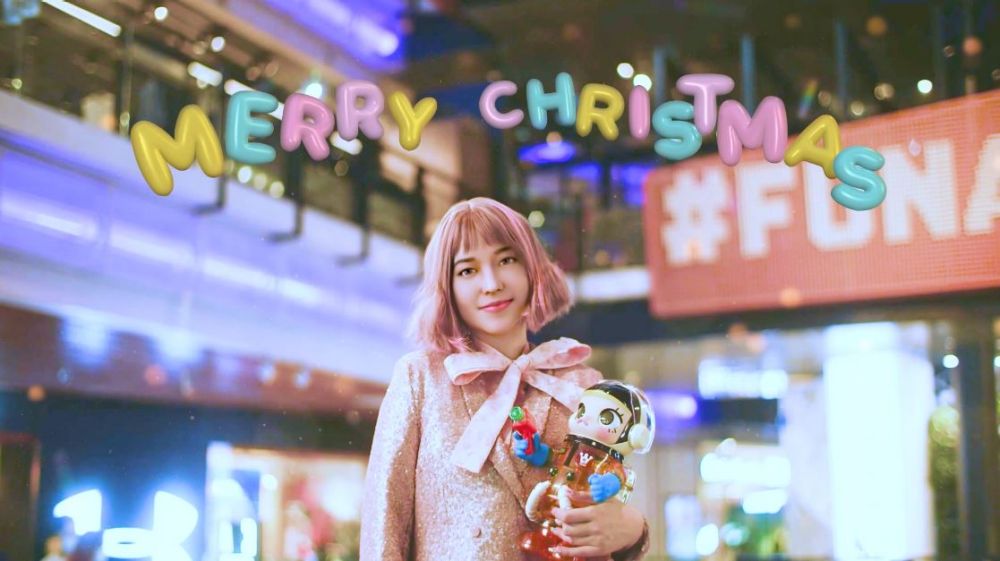 To make this season of giving and gifting even more special, CapitaLand is giving away a limited edition Christmas-exclusive MEGA COLLECTION 1000% SPACE MOLLY Christmas (worth S$1,199.90) to one lucky winner! Follow these simple steps to participate in the giveaway*:
1. From 29 November to 31 December, Rae will be playing an island-wide hide-and-seek with you! Step into the metaverse to find out where Rae will be making an appearance.
2. Here's one hint: Mirror mirror in a digital mall, where could Rae be high and tall? Watching over the cycling lanes, Rae invites you to join for some fun and games! Where could I be?
3. Follow @CapitaLandMallsSG & @here.is.rae on Instagram to obtain more clues on where to find Rae.

4. Once you've found Rae, take a wefie together with her, post it on Instagram, and tag @CapitaLandMallsSG & @here.is.rae in your post. Be sure to make your account public to validate your participation!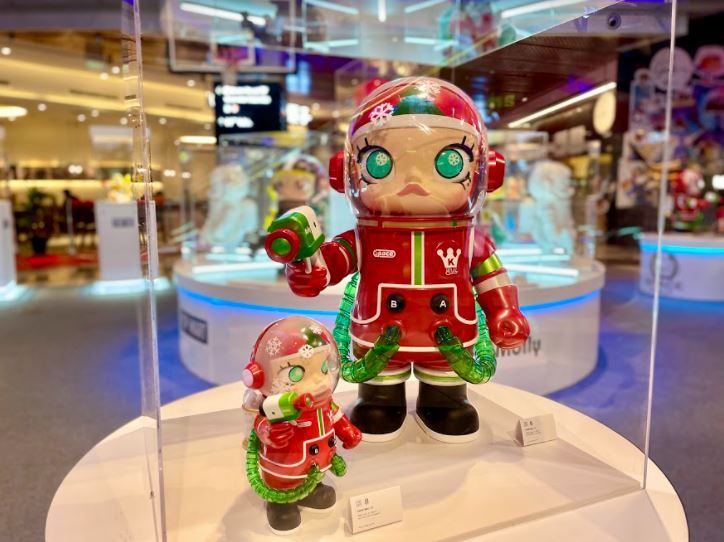 The winner will be announced on CapitaLand malls' Instagram page (@CapitaLandMallsSG) by 14 January 2022. Be sure to participate in this exciting giveaway and the limited edition MEGA COLLECTION 1000% SPACE MOLLY Christmas could be yours! Rae is thrilled to meet everyone this festive season.
* Terms & conditions apply.
A Jolly Molly Christmas with CapitaLand Malls and POP MART
While you're on a hunt for Rae, remember to check out the world premiere of the Molly 15: Into The Future exhibition. Dive into Molly's universe at Funan, Level 1 Atrium Centrestage, along with the kaleidoscopic appearance of MEGA SPACE MOLLY as you witness the never-before-seen exclusive collection all in one place.
Also, be sure to visit all four different themed CapitaLand x POP MART Molly installations across 15* participating CapitaLand malls islandwide marking Southeast Asia's biggest anniversary celebration for Molly's 15th birthday. Fun games, special AR filters, and thrilling shopping deals await you at CapitaLand malls.
Visit CapitaLand's Jolly Molly Christmas website for full details of the campaign and shopping deals. With the teaser videos of the larger-than-life installations prepared specially for you below, share your Jolly Molly Christmas with us on your social media posts and stories by tagging us at @CapitaLandMallsSG, @popmartsg and hashtag #AJollyMollyChristmas! For more updates on POP Mart's Christmas-exclusives, stay tuned to their social media channel (@popmartsg).